​​​HOW TO WRITE A FORMAL E-MAIL?
INDICATE A SET TOPIC!

The subject should be short and specific, related to the email, without redundancy.

For example: "Absence of lesson", "Colloquium retake," "Consultation in the study course" "Introduction to research methodology ", " Question on the topic of the lesson "

ADRESSING!

Start the e-mail with an address indicating the person's position (For example, Prof. Bērziņa, Assoc. Prof. Kalniņa, Assoc. Prof. Gauja or Lect. Siliņa!)

To find out how to properly address a particular lecturer, go to rsu.lv and enter the lecturer's name in the search engine!

Find out more in the subsection: How to address lecturers correctly?

INTRODUCE YOURSELF!

Indicate:

Your name, surname;

If you are a student representative, indicate the represented group, study year or faculty! (For example, group leader, study year leader, faculty councilor);

An indication of the faculty and study program represented;

Remember! Lecturers have a lot of students, so all important information should be mentioned in the e-mail.

CLEARLY STATE YOUR IDEA!

Briefly and specifically explain the problem or the reason why you are writing.

Remember! The more precisely you present the idea, the sooner the lecturer will be able to answer you!

SIGN!

Sign the e-mail, including a courtesy phrase (Sincerely, Yours, etc.), your name surname, faculty, program, year of study and the group.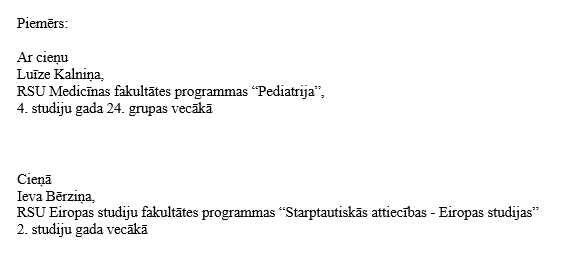 ​
Remember! 
Write an e-mail or from your RSU student e-mail. Do not use your personal e-mail to communicate with university lecturers!

All RSU teaching staff have an e-mail according to the sample "name[pnkts]surnamersu[pnkts]lv". If the lecturer does not answer the e-mail for a long time or you suspect that the lecturer is using another e-mail, do not be afraid to contact the department!