RSU SU Annual Award "Golden Horseshoe" 2022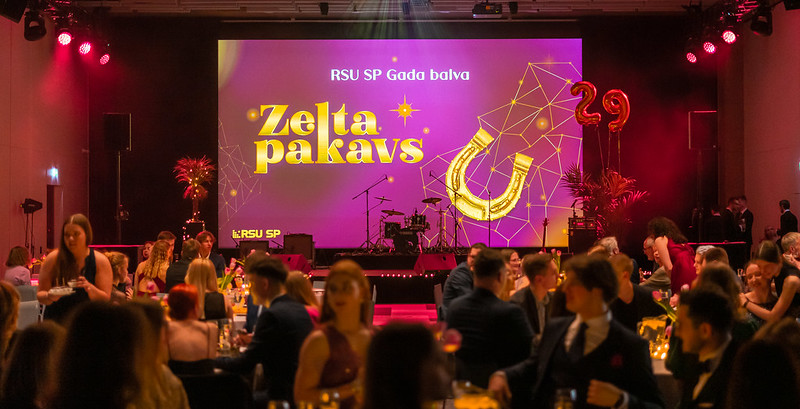 On April 22 of this year, celebrating the 29th birthday of RSU SU, the RSU SU Annual Award "Golden Horseshoe" ceremony took place. This year, the 11 most important and glorious events, people and organizations that provided great value in the development of RSU SU last year were genially welcomed and honored!
After a year's break, this year's RSU SU Annual Awards ceremony took place in a luxurious live event at the Fantadrom, bringing together RSU SU Council members, activists, senior members, university management representatives, as well as guests from other student self-governments and partners. 

Horseshoe of the Year 2022 – Changes in the Regulations "On Riga Stradiņš University Tuition Fee Discounts" and introduction of tuition fee discount graduation

Driven by the initiative of RSU SU and students, the students of the faculties of social sciences and the representatives of RSU SU, participating in active discussions and expressing their opinion, assumed that the tuition fee discounts granted to the students of the faculties of social sciences need to be graded. The changes ensure the possibility to receive a tuition fee discount both in 100% and in smaller amounts, providing an opportunity for a larger number of students to apply for support to cover tuition fees.

Growth of the Year 2022 – Alise Antuanete Sniķere, a student of the 2nd study year of the study program "Medicine"

Getting involved in RSU SU since her first days of study, she took bold and inspiring steps forward, becoming an activist, continuing as a great project manager and eventually Science direction driver. From a science enthusiast to a great science leader - this is the steep path of Antuanete through the Student Union's ladder.

Inspiration of the year 2022 – Ance Mistre, a student of the 2nd year of the study program "Physiotherapy"

She radiates her relentless energy and kindness, encouraging everyone around her to do more, challenging and improving RSU SU. By showing her bold steps towards growth and radiating her sincerity, Ance inspires both freshmen and Student Union colleagues!

Senior Member of the Year 2022 – Artūrs Kaļva

Artūrs Kaļva is a patriot of RSU SU and a person to turn to when you need a truly valuable, significant opinion or experience story. Artūrs' road through RSU SU is quite rich in events - a councilor, the head of the Social Department of RSU SU, the chairman of the board of RSU SU in 2015 and currently a representative of the Alumni Association. No matter how many years have passed, Artūrs is always here and ready to help us!

Friend of the Year 2022 – IT Department 

When starting studies remotely, the RSU Information Technology Department was one of the most heard everyday terms for every student. Bugs in programs, updates and improvements, IT issues and more, and more. Colleagues from the IT department have responded in a friendly manner to the calls of students for help, solving any problem in a peaceful way with one call. We want to keep the same peaceful spirit and desire to help students when we need it most!

Supporter of the Year 2022 – Healthcare company Roche Latvia

Roche Latvia is a science-focused healthcare industry, combining a strong position in the field of pharmacy and diagnostics. Roche Latvia has been a reliable supporter and assistant in the creation of the RSU International Student Conference 2022, supporting the conference not only financially, but also helping to create high-quality panel discussions related to digitization in healthcare and personalized healthcare. Representatives of the company also voluntarily participated in the creation of RSU ISC 22 Talks - broadcasts on such important issues in society, health care and science as the secondary use of data. Successful and valuable cooperation, which will only be strengthened and strengthened in the future! 

Scientific Group of the Year 2022 – The Surgical Scientific Group

2021/2022 has provided and still provides an opportunity for each member or visitor to participate in interdisciplinary theoretical sessions and various practical sessions during the academic year. At the beginning of the academic year, a sewing kit with tools was prepared for each member, which provided an opportunity to train practical skills remotely. There have been 2 practical joint sessions with a group of foreign surgery students, as well as a practical session at the Aiwa Clinic. The group has managed to participate in JMA (New Medics' Academy), educating 170 future physicians, and organized 2 workshops within RSU ISC. Surgical Scientific Group members and visitors have developed about 35 studies this year, but the year is not over.

Innovation of the Year 2022

 

– Psychological Support

Distance learning and the changed daily life clearly affected the students' psychological condition. In order to provide assistance, the RSU Career Center offered the opportunity to seek support and receive psychologist consultations free of charge for a certain amount throughout the year. Students were motivated to continue to strive for goals, to be flexible in different situations, issues, and difficulties related to the choice of studies were solved. More than 100 students applied for support in 2021, and this support is becoming more and more in demand! We hope that this innovation will continue to be a reason to grow and develop in order to further support both students and lecturers on a daily basis when it is most needed!

Activist of the Year 2022 – Anna Niedra, a 2nd year student of the study program "Medicine"

She has been a part of almost every RSU SU 2021 event. Being able to fill the space with her energy, she provides help without asking for anything in return and is always ready to share useful ideas. Anna truly adds value to RSU SU!

Accident of the Year 2022 – Accident of the Year 2022

In the autumn semester of 2021, every student was looking forward to the resumption of full-time or at least hybrid studies. Given the circumstances, the provision of epidemiologically safe conditions was a priority, so full-time studies remained a mere hope for many students. Although the university was very successful in adapting to the situation when it was necessary to switch to the distance learning process in a short period of time, the return in person came with great uncertainties and questions about the format of the study process.

Snail of the Year 2022 – Rehabilitation Faculty Passenger Train Discounts

In 2019, the idea arose that the students of the Faculty of Rehabilitation need to provide train discounts to travel to Jūrmala as part of an internship, which would facilitate the students' daily life and would also be beneficial due to the large number of passengers for JSC Passenger Train. This work was started by the Chairman of the Board of RSU SU at the time, then it was taken over by a representative of the Foreign Affairs Department of 2020. Work stopped due to both the pandemic and other reasons. In turn, the head of the Foreign Affairs Department of 2021 also involved the Latvian Student Union and co-operation organizations. Even now, the work is not done, although it is slowly moving forward, but stops where it should not. Let's hope this is a stepping stone to finally get the desired results!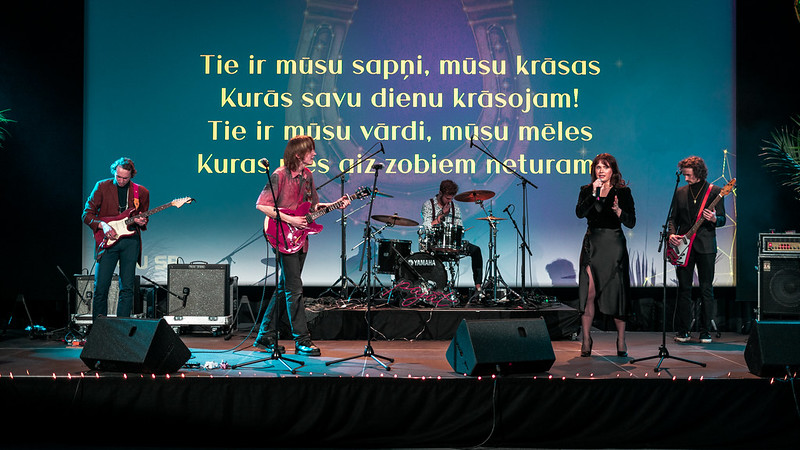 During the ceremony, the nominees and guests were accompanied by several stage artists - JL KALMANN delighted the audience with his melodic and smoky voice, Liene Dzilna led us in the velvety sound and harmonious playing of the kokle, and the traditional RSU SU anthem "Tikai Tā" was performed by "Mēneša Darbinieks" and Anna Niedra, the winner of the nomination "Activist of the Year ".
the traditional RSU SU anthem "Tikai Tā" was performed by "Mēneša Darbinieks" and Anna Niedra, the winner of the nomination "Activist of the Year ".
Thank you to Haralds Gerts, who has been making our special prizes for nominees for the 5th year now!
We would also like to say a big and sincere THANK YOU to our dear sponsors: Agency smalkais stils for tablecloths and napkins, Ausmeņa kebabs for gift cards, Latvijas Roze for beautiful flower bouquets, Fotogrāfijas muzejs for free tickets, Dekoratīvās mākslas muzejs for free tickets, VAIG for gift cards, Klerr for elegant evening dress, Mansards for books, Nutriboom for cold-dried fruit and berry packets, Drifta halle for gift cards, VR gaming for gift cards, River cruises for gift cards, Konditoreja Rūberts for delicious eclairs and un Comedy Latvia for invitations!