Review of the "Spring academic seminar"

On April 17 of this year, the "Spring academic seminar" took place. This year the main topic of the seminar was - what are the things you want, even if you knew when you started studying in the first year?
Adapting to the distance learning process, the Spring Academic Seminar also took place online. 29 students interested in knowledge applied for the seminar, who on the day of the seminar had the opportunity to learn more about how to improve their study process, get involved in student representation and find answers to unanswered questions about the study process and its course.
After the ceremonial opening of the seminar, we started the day with a storm of ideas. This was followed by an interactive lecture from Ilze Voitiņa, Administrator of Study Course Descriptions, who introduced the participants to the study course "Introduction to Study Materials Base", where you can find a lot of useful information about starting studies, RSU opportunities and other things that are useful throughout the study period. 
After the informative I.Voitiņa lecture, the participants were offered various activities to promote their involvement and stimulate thoughts about possible improvements in the study process. For this purpose, the participants had the opportunity to participate in the "Knowledge Hunt", where various tasks were prepared so that the participants could learn more about the Study Regulations and the organization of the study process at the university in an attractive and interesting way.
When all the knowledge was hunted down and the best hunters learned, a lecture followed by Simon Vogel, a former student at our own university, who shared his extensive study experience and advice for students on how to learn and how to organize their studies, showing examples from their daily lives.
In the end, the participants were able to discuss the issues of interest and discuss their study experience in a free atmosphere, as well as share their impressions so far. The winner team of the knowledge hunt was announced as well - "Violet pixies", who will get amazing gifts from our sponsors - Lillas lavender, Latvian Ethnographic Open-Air Museum and 6 minutes 365 days. A huge thank you to each of our sponsors!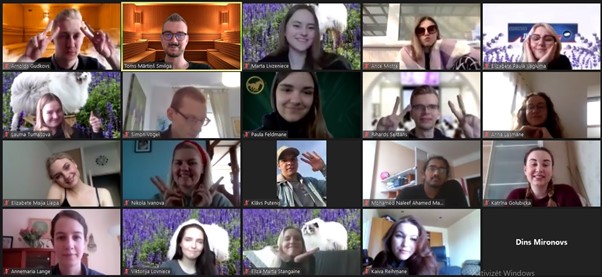 ​