RSU ISC is an International Student Conference in Health and Social Sciences organized by Rīga Stradiņš University students. The aim of the conference is to promote student research, expand your skill set, meet student researchers from other countries and just to enjoy time. This will be the 9th time since RSU ISC is happening in an international format welcoming students from other countries. This year RSU ISC will take place on the 27th and 28th of March, 2023 and it will be part of RSU Research Week 2023 which is one of the biggest science events in Northern Europe. Each year more than 3000 participants from more than 35 countries join our conference.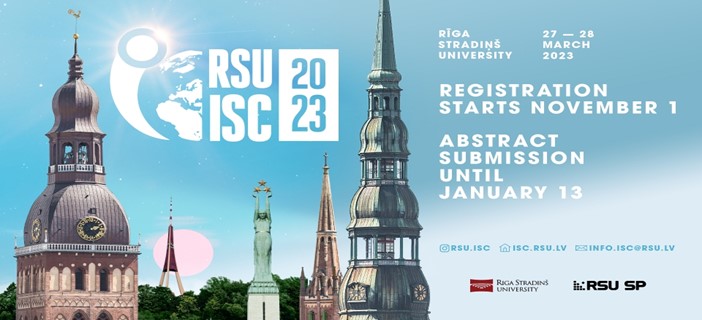 Despite the lack of opportunities to do research because of Covid pandemic, student research cannot be stopped and last year there were more than 300 abstracts submitted and presented. In addition last year's conference hosted many professionals in our plenary session and keynote lectures, for example Mr. Marat Fatkhullin (Elsevier's Vice President of Global Strategic Networks), Tomass Pildegovičs (Ph.D. Candidate at the Department of Politics and International Studies at the University of Cambridge), Jānis Kloviņš (Latvian Biomedical Research and Study center director) and many more.
Students will be able to participate with their research work in one of 19 health science, 4 social science sessions as well 4 case report sessions with oral, poster, and case report presentations. Additionally, this year there will be two new sessions - General Practice & Family Medicine, Primary and Palliative care; Digital Medicine, Medical Simulations. Another good news is that this year active participants will be presenting their scientific works in the conference on-site. However, the passive participants will be able to join on-site and online.
Besides the conference, there will be more than 15 workshops where people can try new things and improve their skills, amazing keynote speakers, plenary sessions, a social program with socializing events, excursions, and tours. Don't forget our podcasts, mock-trial and more. So many things to see and do outside science so people can make friends, relax between hard work and create new amazing memories with RSU ISC!
Don't forget to join us and remember – science is infinite!