Studentu zinātniskie pulciņi
Zinātne
Zinātnes aktualitātes
New researcher
Research
For students
Application for Student Science Interest group has started!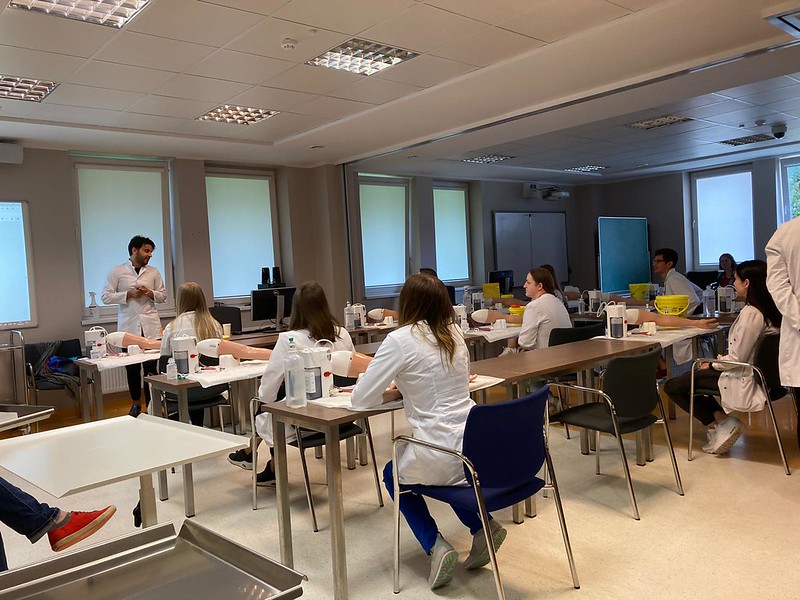 Student Science groups have been active in Rīga Stradiņš university for the last 15 years and they receive many students annually in order to get to know their interests a little more! The number of such groups increases each year and there are 30 science groups as of today.
Last year has seen the addition of 2 new groups: Urology and Forensic Medicine. Students' interest in science groups is proved not only by their sheer number but rather by received applications which last year was about 600.
Groups have theoretical and practical meetings where an experienced mentor participates as well who will always help to answer student's questions. Meetings happen usually once a month. Every group can be attended in 2 ways: as a member of that group or as a guest. As a member, you must make a presentation with a detailed examination of the topic.
The greatest upside as a member is that one can participate in practice meetings where new knowledge can be obtained and improve skills in the particular field. Quite regularly there are excursions to hospitals and universities abroad as well.
It is a unique opportunity so you must apply to your group of interest. With all of the 30 groups you can get acquainted HERE.
Remember! If you are not elected as a member you can always visit all theoretical meetings as a guest.
Within the scope of Science groups each year there are science research works done. Such groups are an amazing platform where to start your first steps towards science! If you already have an idea head of the group will help you to contact with according people in order to realize the idea, however, if you do not know what to research the head together with a mentor will give you some options for topics with which you can make scientific research.
You should not be worried about the impact of COVID-19 on science groups, for last year proved that meetings can be successfully held online as well and in some ways, it was even beneficial, for mentors from abroad could participate in group meetings. For instance, one professor was from Yale University. And various solutions were found for practice meetings. One such instance was a practice meeting of the Neurology and Neurosurgery science group where a set with all necessary tools was sent to participants' homes to learn lumbar puncture!
Use the chance and apply for a member in one of the 30 science groups until the 12th of September!
If you do not know which group you want to attend, take the test and find out the group that suits you!